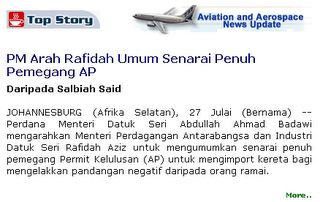 AP - Full Publication

From Salbiah Said
www.bernama.com
Prime Minister Datuk Seri Abdullah Ahmad Badawi Wednesday directed Minister of International Trade and Industry Datuk Seri Rafidah Aziz to publish the full list of Approved Permit (AP) holders to avoid negative perceptions from the public.
"Okay publish all, publish all. There's no need to keep. Why should we keep. If by keeping we create negative perceptions, that's not right, that's wrong," he told the Malaysian media at the end of his three-day official visit to South Africa.
Later, after the press conference, Rafidah told reporters that she was too hurt to reply to Dr Mahathir's allegations.
Oleh/By : DATO' SERI ABDULLAH BIN HAJI AHMAD BADAWI
PERDANA MENTERI MALAYSIA
Tempat/Venue : PEJABAT PERDANA MENTERI
Tarikh/Date : 18/07/2005
Tajuk/Title :
SENARAI PEMEGANG "APPROVED PERMIT" (AP)
Pejabat Perdana Menteri
SIARAN AKHBAR
Kerajaan telah mengambil keputusan untuk mengumumkan senarai pemegang "Approved Permit" (AP).
Terdapat dua jenis AP:
• AP Terbuka membenarkan pemegang untuk mengimport kereta baru dan terpakai dari mana-mana sumber. Pengeluaran AP Terbuka yang baru telah dihentikan pada tahun 1988. Senarai profail syarikat pemegang AP Terbuka disertakan sebagai Lampiran I.
• AP Francais dikeluarkan kepada syarikat yang telah memeterai perjanjian agensi eksklusif secara langsung dengan pengeluar kereta luar dari negara. Senarai profail syarikat pemengang AP Francais disertakan sebagai Lampiran II.
Profil syarikat yang terkandung dalam senarai pemegang AP adalah berdasarkan maklumat yang dikemukakan oleh para-pemegang AP kepada Kementerian Perdagangan Antarabangsa dan Industri (MITI) semasa mereka memohon untuk dipertimbangkan pemberian AP.
Walaupun syarikat-syarikat disyaratkan untuk memaklumkan sebarang pertukaran kepada struktur ekuiti, tidak semua syarikat berbuat demikian. Justeru, maklumat terkini mungkin berbeza daripada maklumat yang didaftarkan di Suruhanjaya Syarikat Malaysia.
Pejabat Perdana Menteri
Bangunan Perdana Putra
Putrajaya
18 Julai 2005