Assignment 2: Count the number of government projects/government-linked deals by S/SIL


Kamaluddin, Khairy Never Get Govt Projects, Says Abdullah

KUALA LUMPUR, Aug 7 (Bernama) -- Datuk Seri Abdullah Ahmad Badawi Monday night denied his son, Kamaluddin, and son-in-law, Khairy Jamaluddin, have benefited including getting government projects from his position as Prime Minister.

Abdullah said since becoming Prime Minister and Finance Minister, Kamaluddin and Khairy never abused the family ties to get government projects.

"Kamal (Kamaluddin) never misused his relations with me. Kamal was never involved in local companies or concessions. No. He never asked any help from the government. Never in anything that needs bail-out," said Abdullah, who took over the country's leadership from Tun Dr Mahathir Mohamad at the end of 2003.

Abdullah said this in a 40-minute interview with Bernama Chairman Datuk Mohd Annuar Zaini in the "Bersemuka Bersama Perdana Menteri" programme aired by TV3 Monday night.

Kamaluddin is the biggest shareholder in the oil and gas services company Scomi Group while Khairy owns a small interests in the investment bank ECM Libra Bhd.

Abdullah said Kamaluddin had to find projects overseas because he did not want to linked with his father.

"If people ask why go overseas, he (Kamaluddin) will say father (Abdullah) is the prime minister, it's difficult to earn a living locally. His contracts, his business, 80 per cent are from overseas. That is his livelihood," he said.

Abdullah also quashed rumours that Scomi had been awarded the monorail project in Penang.

On Khairy, he said his son-in-law took a loan to buy shares in ECM Libra.

"But, to say he grabbed projects, I've no evidence with me that Khairy has taken government projects," he said, adding that Khairy never met him to ask for projects.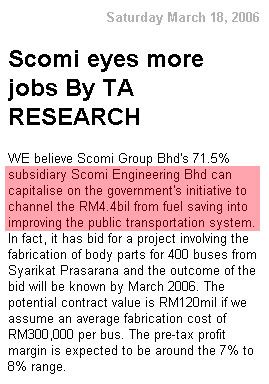 Original news: The Star's Business News. Screenshot captured by Jeff Ooi.
No?
Google News
and the
mainstream media (MSM)
must be lying then. Please do this assignment yourselves.